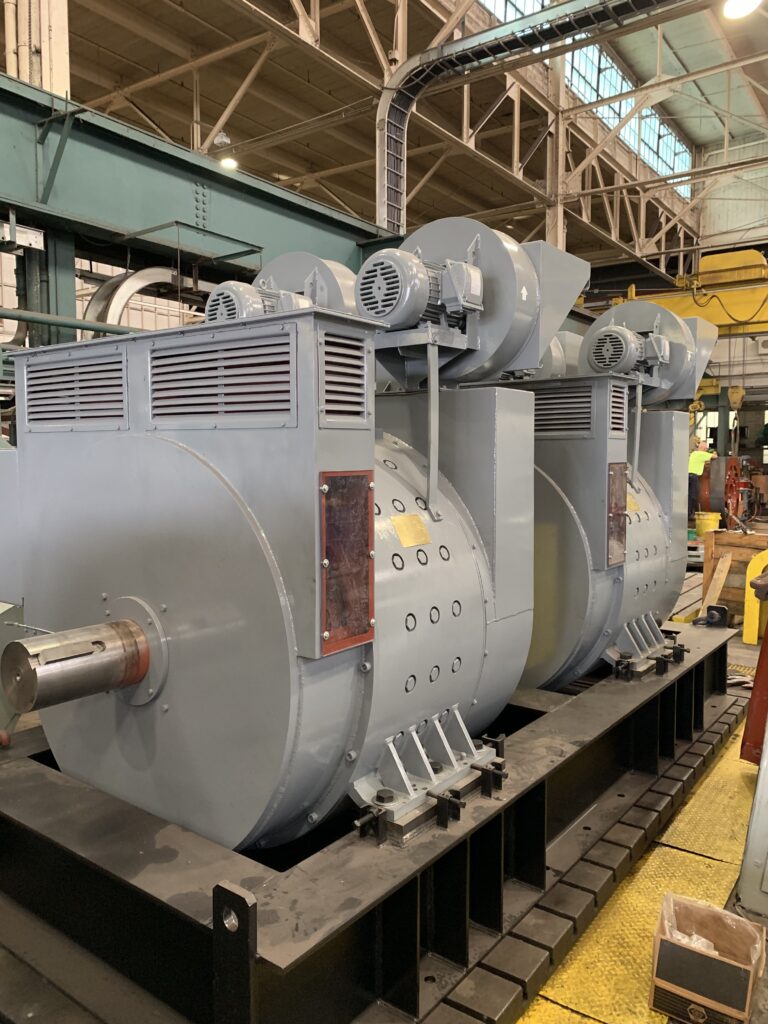 The Joliet JEC-EMD 79 Series Wound Reconditioned Drilling Motor delivers a continuous rating from mud pump and rotary table application of 800 HP and intermittent rating for drawworks application of 1000 HP. Continuous rating is at 750 VAC, 850 Amperes, 1000 RPM.
Features & Specifications
JEC-EMD79 Features
Reconditioned Self Excited Series Field
Reconditioned EMD Armature, Single Tapered Shaft Extension with New Hub
Reconditioned Class H Insulation
New Heavy Duty Pressurized connection box mounted on left side of motor as viewed from commutator end, with Double bolt-on or Plug-in armature cable connections and terminations for space heater, auxiliary switch, and pressure sensor, Connection box can be specified on right side.
New Space Heater, 120 or 240 Volts, Explosion Proof, 150 Watts
New Crouse-Hinds Auxiliary Lockout Switch, Explosion Proof
New Blower Assembly, 10 HP, Explosion Proof, 460 Volts, 60 Hz., providing 2600 CFM of cooling at 7.2 In. of water
New Dwyer Pressure Sensor, Explosion Proof
Approximate Weight: 6,150 Lbs., 2,789 kg
ISO 9001:2000 Quality Program
New Cushioned "Export Spec." Shipping Skid
4270 lb. ft. Torque at 1000 RPM (800 HP)
Enclosure: Weatherproof
Force Ventilated
Inspection Covers: Bolt-on or Snap-on Type
Leads: 535 MCM
Red Oxide Primer Inside & Out with (2) Part Epoxy Paint System, Grey in Color